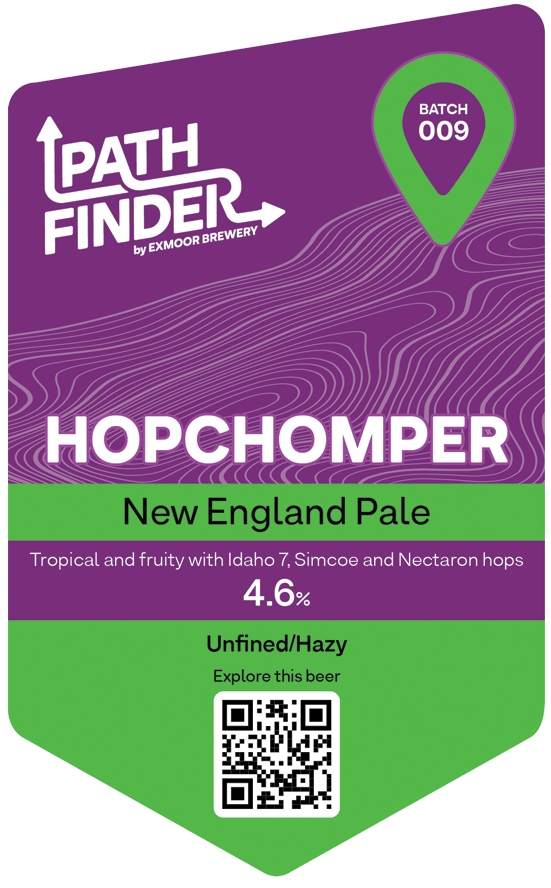 As with all the Pathfinder beers, we love integrating new and modern ingredients into our beers. Hopchomper is no exception!
This beer is a hazy hop-bomb into which we have combined some of favourite hops such as Idaho 7®, Simcoe, Amarillo, with a brand-new New Zealand hop we have never used before, Nectaron®!
To balance this out we have brewed the malt bill using Chit Malt to provide a smooth, hazy, and fruity mouthfeel.
Hazy, modern New England-style pale ale.
This hazy beauty is medium in body, using a blend of Idaho 7®, Simcoe, Amarillo and Nectaron® hops to build a busload of Passionfruit, citrus and tropical flavours and aromas. Medium bitterness levels are balanced by the silky, smooth mouthfeel from the chit malt, with a smooth sweetish finish to round off the taste.
Water, Malted Barley, Amarillo hops, Simcoe hops, Idaho 7® hops, Nectaron® hops, Yeast.
This cheeky fruity number goes well with any chargrilled foods such as barbecued meats and caramelised vegetables. It also goes well with fried seafood, and southern fried chicken.
Suitable for vegetarians and vegans
This beer is unfined, making it suitable for both vegetarians and vegans.
This beer will be released in early April. Publicans, contact your sales rep or email us to pre-order.
To buy a limited edition mini cask for home delivery, subscribe to our email list to get advanced notice regarding the release date.