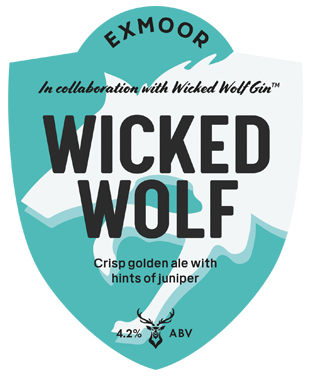 Now available year round!
GOLDEN ALE
Wicked Wolf Ale is the result of our collaboration with Wicked Wolf Gin. Wicked Wolf were our obvious choice due to their reputation for fine, award-winning gin and, of course, because they are based on Exmoor.
The idea for the beer happened after Wicked Wolf distiller and co-founder, Pat, visited the brewery and met our head brewer. Pat provided juniper berries for sampling and trial brews, and shared his advice and experience. The result was this delicious beer.
After further collaboration, Wicked Wolf went on to make an Exmoor Gold inspired gin and more recently, limited edition, The Beast gin.
Tasting Notes
The straw-coloured beer is described by beer writer, Adrian Tierney-Jones as 'the kind of beer to perk up weary palates'. There's a suggestion of aromatic gin-like botanicals and a gentle spiciness on the palate, which lead to a delicate floral hoppiness and the suggestion of citrus before it finishes dry and lightly fruity.
Hops
Styrian Bobek, Perle, WGV
Tastes Great With
Salads and delicate white fish, or on its own – a refreshing pint.
Availability
Year Round

Allergens
Cereals containing Gluten (Barley), may also contain trace amounts of Wheat
This ale can be produced to be suitable for vegetarians and vegans upon request.