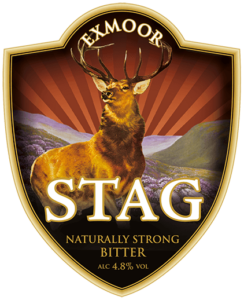 ABV: Draught 4.8%, Bottled 5.2%
STRONG BITTER
Back in 1991, Somerset County Cricket Club celebrated its 100th anniversary and Exmoor produced Stag to celebrate the occasion. Initially produced in a bottle, this full-bodied copper-coloured strong ale has gone on to become a vital part of the brewery's cask-conditioned portfolio.
Tasting Notes
This is a big hitter of a beer, an Ian Botham standing defiantly at the crease. The nose is rich with resiny hop aromas to the fore followed by a biscuity maltiness in the background. On the palate, a voluminous malty character with hints of chocolate and toffee is matched note for note with a well defined and warming fruitiness, before a long dry finish with a hint of sweetness.
Hops
First Gold, Fuggles, Goldings
Tastes Great With
The subtle sweetness of spring lamb or watch it mix and match in the company of roast beef or pheasant. Also, enjoy it with roasted seasonal vegetables and experience the bittersweet nature of Stag complementing the caramel sweetness of the vegetables.
Availability
Year Round
Allergens
Cereals containing Gluten (Barley), may also contain trace amounts of Wheat.
This ale can be produced to be suitable for vegetarians and vegans upon request.