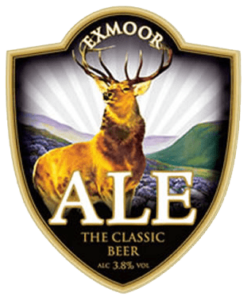 CLASSIC BITTER
ABV: 3.8% Draught, Bottled 4%
Now available in bottles!
In 1980, Exmoor Ale was the brewery's sole beer and even though it was only supplying eight pubs, it sent several casks from its thirteenth brew to the Campaign For Real Ale's beer festival at Alexandra Palace. That thirteenth brew was far from unlucky, it was judged to be the Best Bitter in the country and Exmoor Ales (or Golden Hill as it was known then) never looked back. Thirty-nine years on and Exmoor Ale is still a favourite of real ale drinkers.
Tasting Notes
This light chestnut-brown session beer has a fresh, grainy, biscuity nose with a hint of fresh citrus fruit in the background. The palate tingles with a stunning counterplay between grainy, biscuity maltiness and a sprightly citrusy fruity centre and a suggestion of mint. The refreshing finish is a Challenger hop-driven bittersweetness with a lingering dryness, while traces of biscuity maltiness, a whisper of chocolate (from a pinch of chocolate malt in the mash) and fruit also make an appearance. The sort of finish that says 'have another sip'.
Hops
Goldings, Challenger, First Gold and Styrian Bobek
Tastes Great With
Steak and kidney pudding or roast lamb, the sweetness in the latter dovetailing with the sweetness in the ale, with the bitterness keeping everything in order. Also fish and chips, with the hop fruitiness cutting through the fat of the batter, while making sure the fish's flavour isn't overwhelmed.
Availability
Year Round
Allergens
Cereals containing Gluten (Barley), may also contain trace amounts of Wheat
This ale can be produced to be suitable for vegetarians and vegans upon request.