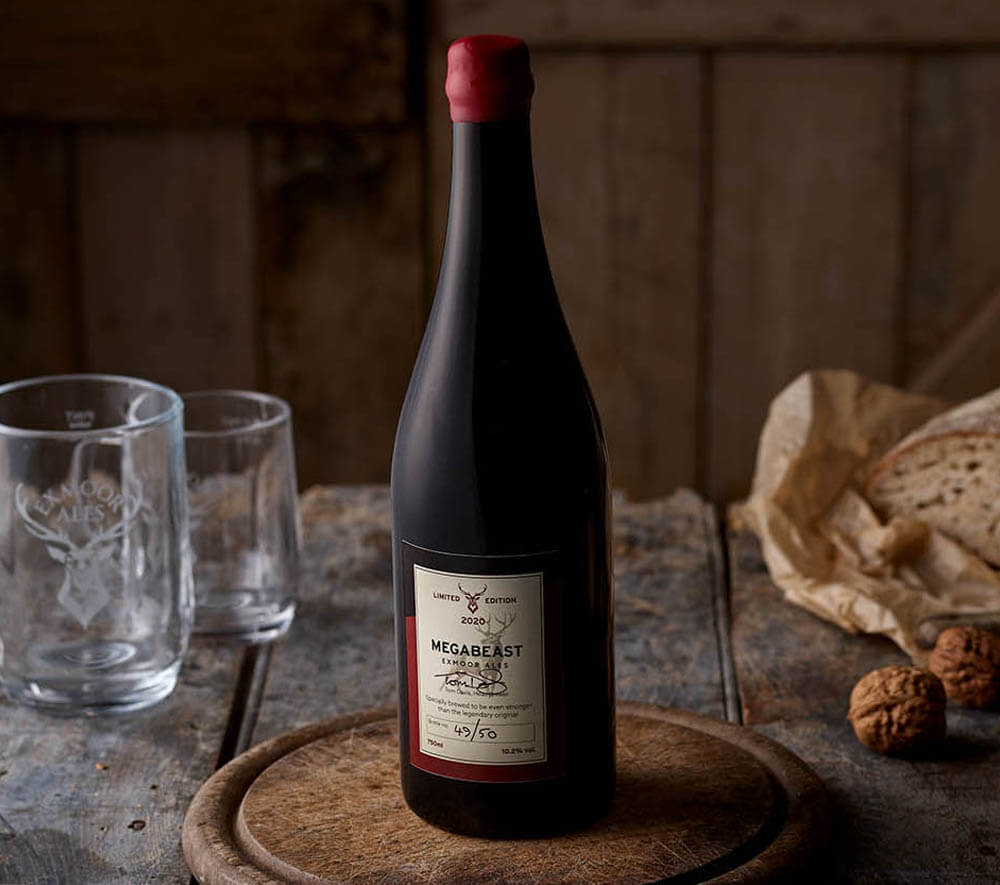 UPDATE:
Megabeast sold out in a number of hours! More micro-batches from the head brewer are in the works. Get on our monthly email list for early access to new stock.
---
Megabeast 10.2%, is the first in a series of very limited, different editions of our most popular award-winning ales.
Megabeast, a much stronger version of our iconic Exmoor Beast ale. Brewed at 10.2% ABV, this Beast is loaded with warming winter spice flavour and aromas.
We imagine it being sipped, on a dark winter evening, sat by an open fire with a cheese board – in the same way you would enjoy a port or sherry. It's perfect for Christmas time or for gifting to the Beast fan in your life.
Beer writer, Adrian Tierney-Jones says,
"There is a fineness and elegance about this beer. Beast seems a bit of a misnomer, in fact, it's as if Beast has civilised itself and sat down at the table, beautifully mannered but still with that suggestion of the wild, Beauty and the Beast indeed."
In this ongoing micro-batch series, these 750ml bottles will be available in strictly limited runs of 50. Once they're gone, they're gone.
These unique ales are specially brewed, individually bottled, signed and numbered by Head Brewer, Tom Davis. Tom has even designed the labels – truly handcrafted start to finish.
Tom explains the reasoning behind these micro-batches,
"With many breweries just concentrating on increasing profit margins, I was eager to brew something purely for the love of the beer, and the fun of hand producing it. Our beers have many fans around the world, so we thought it would be a great to do some completely hand-made special editions to celebrate and reinvent them. These beers will cellar and age beautifully, so we'll leave up to you how long you can resist popping the top!"
In the spirit of fairness, orders will be limited to one per person. More special brews coming your way!
Note – these bottles have been conditioned in the traditional way, so care should be taken when pouring and storing to avoid disturbing the yeast sediment.