Golden Beast is here
***UPDATE: Golden Beast sold out in just two hours. More limited edition micro-brews are planned. If you'd like to get early notification, be sure to get on our monthly newsletter list.***

Another cracking limited edition ale produced by Head Brewer, Tom Davis. This beer is based on our original Exmoor Gold, but brewing at a stronger 6.6% ABV, matching that of our Beast.
It's sure to please the many Exmoor Gold fans out there, but with only 50 bottles per batch, they won't last long. Like Megabeast before it, sales will be limited to one per person to allow as many people as possible to have a chance at it.
Tasting Notes
Pouring Dark Gold in colour and with a moderately creamy white head. Medium-high level of carbonation from the natural bottle conditioning, with aromatics in the glass loaded with honey and caramel and spicy ester notes. Smooth, moderate malt sweetness initially, with more honey and slight toffee and banana, finishes medium-dry with some smooth, warming alcohol becoming evident in the aftertaste. Best enjoyed at cellar temperature.
Beer writer, Adrian Tierney-Jones says,
Tried Golden Beast, really enjoyed it. I found it had a spritzy nose with a juicy graininess and a light fruitiness suggestive of orange and mandarin; more juicy graininess on the palate, citrus, full-body, bittersweet mid-palate and a good dry finish; in some ways, I was reminded of a Belgian golden ale. Very enjoyable, I really like these special releases.
About this series of limited edition micro-batches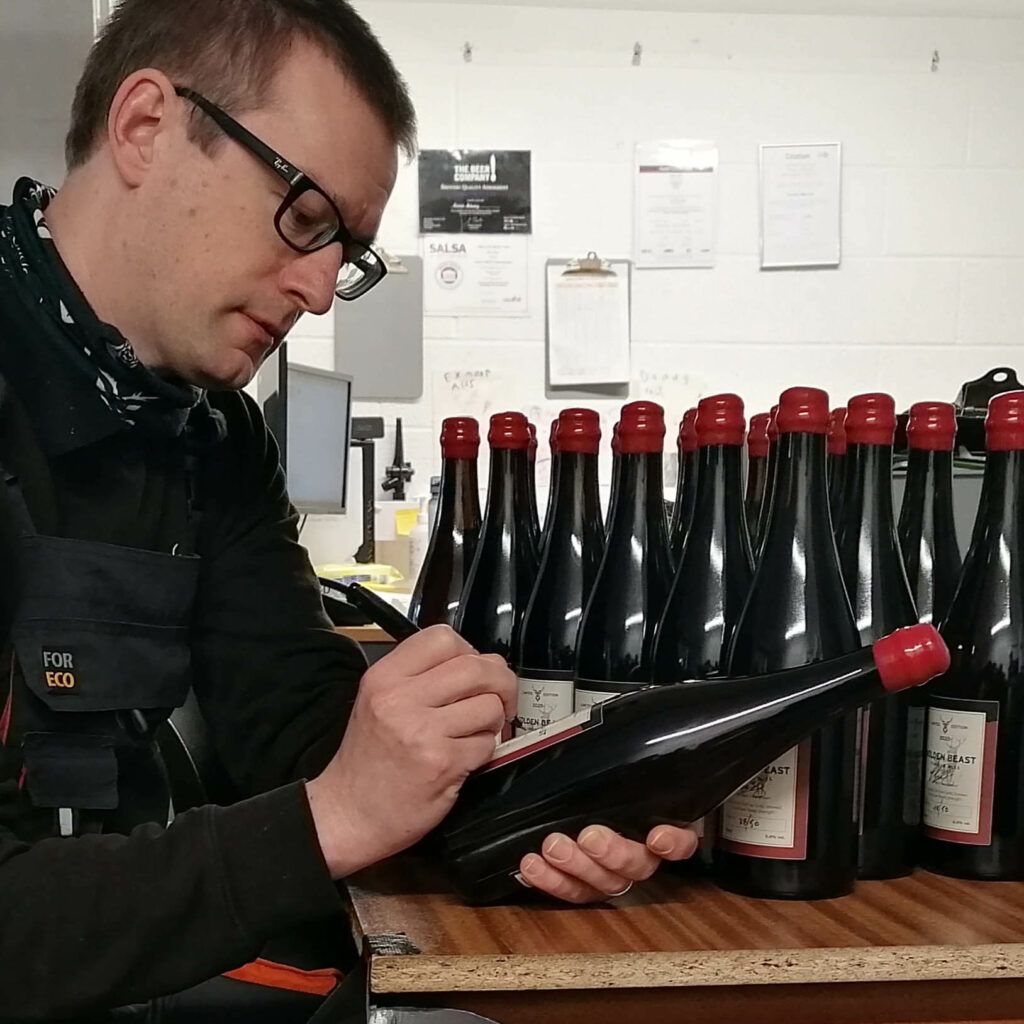 Limited edition micro-batches are strictly limited to runs of 50 – each bottle is 750ml.
These unique ales are specially brewed, individually bottled, signed and numbered by Head Brewer, Tom Davis. He even designed the labels – truly handcrafted start to finish.
Tom explains the reasoning behind these micro-batches,
"With many breweries just concentrating on increasing profit margins, I was eager to brew something purely for the love of the beer, and the fun of hand producing it. Our beers have many fans around the world, so we thought it would be great to do some completely hand-made special editions to celebrate and reinvent them. These beers will cellar and age beautifully, so we'll leave up to you how long you can resist popping the top!"
In the spirit of fairness, orders are limited to one per person.
Several more special brews are planned. Sign up to our monthly newsletter to get advanced notification when they go on sale.
Note – these bottles have been conditioned in the traditional way, so care should be taken when pouring and storing to avoid disturbing the yeast sediment.