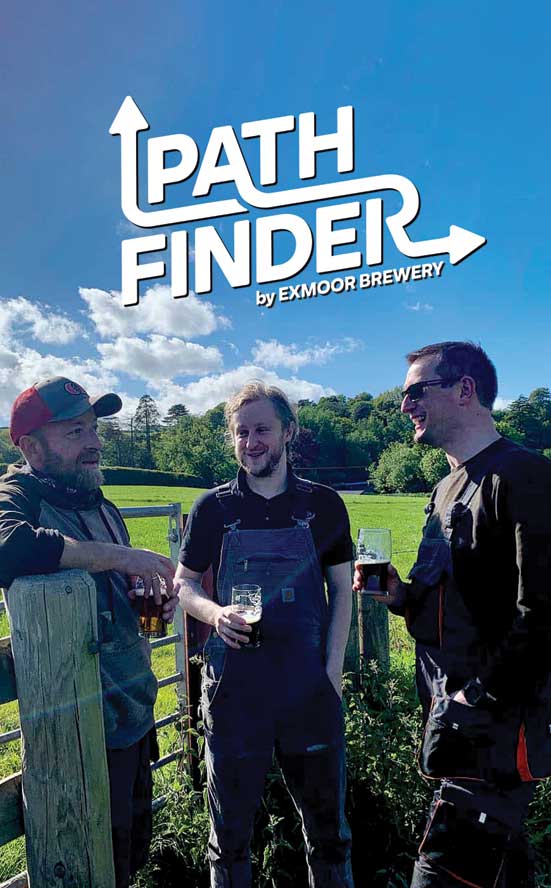 There's never been a better time to be a beer drinker.
With an ever-increasing selection of styles and ingredients used by brewers around the world to make intriguing beers.
Exmoor is launching the Pathfinder project to bring our customers along our own journey of recipe exploration, and we're preparing our favourites to share with beer fans.

The brewing team has been prepping a changing selection of exciting small-batch brews to try.
Feeling adventurous? Subscribe to the monthly newsletter or keep an eye on this blog to tag along on our voyage of discovery.
Will we be able to buy the beers?
Each small batch will be exclusively on cask in pubs.
We'll also create a limited amount of 5L mini-casks from each brew to enjoy at home. They'll be available to purchase in our webshop or to pick up from our brewery shop.
What is the first beer to launch?
Chap Hop 4.9%, a hazy Mountain-style IPA, is the first beer we'll be rolling out.
This one is for the hopheads – with bucketloads of wonderful, modern hops from the US Pacific Northwest, combined with oats in the recipe to provide a smooth, fruity mouth-feel.
As a brewery, Exmoor has used plenty of traditional English hops for decades. We use many UK varieties such as Fuggles, Golding, Challenger and First Gold to produce the favourites in our traditional cask ale range, such as Gold, Stag, Ale and Beast.
With the launch of the Pathfinder project, our brew team will be stretching their legs, and using new and interesting ingredients from all over the globe to produce new recipes.
Learn more about Chap-Hop, 4.9%